Hello! Though Pulp, Ink and Thread has been on a bit of a blogging hiatus, this semester we have resolved to update the PIT blog with events, articles and our own involvement in the book and paper world every few weeks!
PIT had a table at this summer's

Chicago Book and Paper Fair

, a one day exposition and sale of Antiquarian books and ephemera. We were the only student booth there, and collectors were very interested in our original and newly printed work and handmade paper. More pictures to follow... but here is a trusty Hipstamatic of the spread: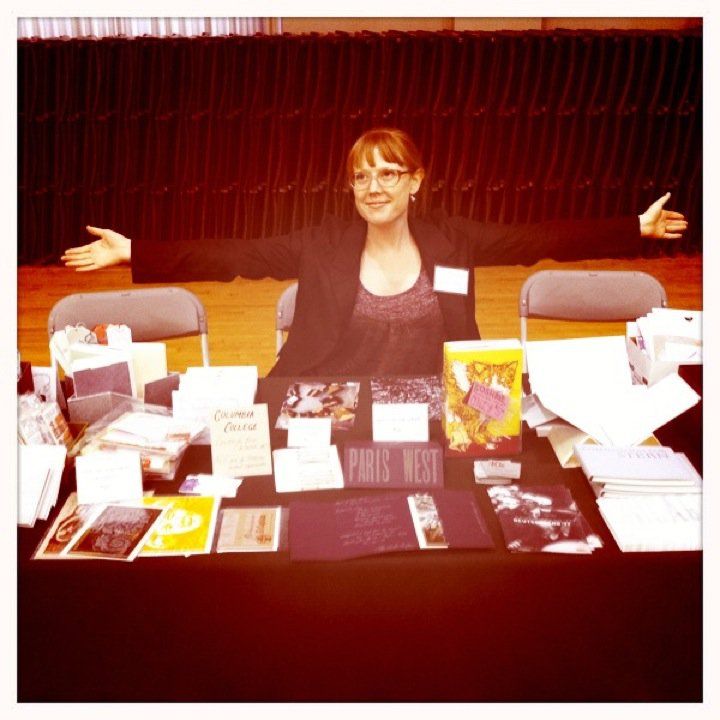 To start the school year off right, I thought I'd share a few links to online collections of artist's books.
I discovered "Browsing Copy" in a recent

Wall Street Journal article

. Created by a Singaporean book collector Roy Poh, Browsing Copy is an online exhibition of altered books made from bookstore display copies that were damaged and deemed un-sellable. Poh found stores to donate these well used volumes- usually books that had interesting or inspiring content, and sent them to artists with this message:
"I am over-used, mishandled, I remained on the shelf, unappreciated…Dear XXX, you are invited to bring this book back to life."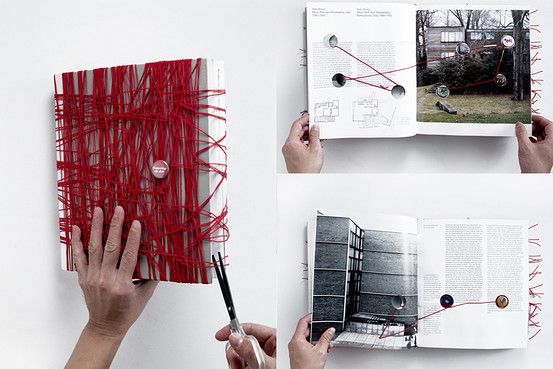 You can view the results at the online exhibition of Browsing Copy here, with plenty of stunning photo slideshows. Poh has plans to make a catalog of the work, and will print and distribute them to bookstores, where they will be available for browsing only.
This project reminded me of The Love Library, another ongoing and online collection of artists books made from altered romance novels. Sculptor and mixed media artist Chido Johnson began the library and the accompanying website, "Let's Talk About Love, Baby," as a testament to his childhood in Africa, where the only books he had to read in English were his mothers collection of pulp romance novels.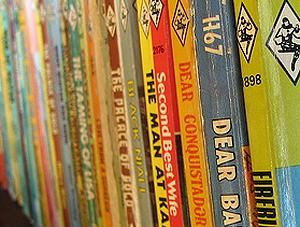 Chido invited artists to alter existing novels or interpret their own book-object to certain specifications- books needed to be the size of a paperback and have a certain font on the spine. The results are charming, often satirical, books that turn the clichéd subject into a provocative look at lust, gender and relationships. The library has traveled from Detroit to Zimbabwe to Chicago, with its most recent stop in St. Louis. Some of my favorites are listed by artist below, including my own contribution, though there are hundreds of titles in the ongoing collection from all over North America, Europe, and Africa.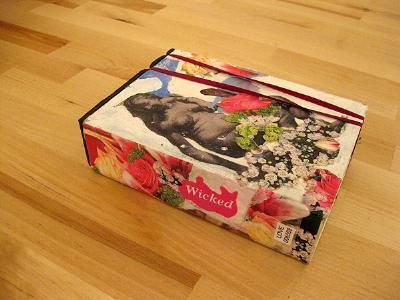 Faina Lerman's image is above
Here is a link to the catalogue- I recommend these artists:
Ed Brown and Annie Reinhardt
Hope you enjoy these collections!
Elizabeth Isakson-Dado, PIT Secretary